Atelier TËSSS ...
Atelier TËSSS ...
TËSSS . . .
A Wolof word, a language spoken in Senegal.
In Saint Louis, it describes "beautiful", when very, very beautiful!
With a touch of emphasis in the voice,
One can repeat tësss . . . tësss. . . !
Elsewhere in the country, the same word means "busy", very, very busy.
We adopt the two uses.
We are a busy team, dedicated 100% to produce Beautiful Weaving.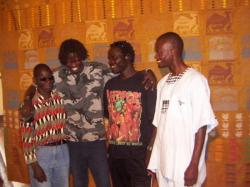 PAGNE: MANDJAK WEAVE
A pagne is a textile, made of woven strips, cut and stitched together to form a large 'wrap' approximately 1.20 m X 1.80 m. A pagne is used to swaddle a newborn baby. The mother uses the same pagne to wrap the baby on her back, tying the ends around her body under her breast, to protect and carry the baby throughout the day in this fashion. Wealthy women regularly commission several pagnes, whereby the weaver will set up shop in her central courtyard to work and complete the large order. The woman of the house will choose and supply all the yarn, which is used to subtly reflect her taste, wealth and generosity, most often choosing imported yarns of silk, silver or gold, found in large Asian markets. In addition, she feeds and cares for the weaver's daily health and support needs, plus pays a wage for his work. She will give these beautiful pagnes as gifts for future marriages and baptisms. Once the commission is completed, the weaver moves and installs in the home of another commission. Frequently the artisan is asked to suggest designs. He carries a long rolled strip of sample designs which he has made over the years
The Mandjak pagne is woven on a loom with two shuttles; one for the background color and the other for the weft, light relief. This type of weaving necessitates an intricate assembly and collaboration with an assistant who operates the supplementary heddles mechanism. The execution of a Mandjak pagne is labor intensive and costly.
Note: In contrast, there are other types of pagnes in Sénégal. The pagnes Séreres and the pagnes Toucouleur are striped or minimally decorated. They do not need a 'weaving team'.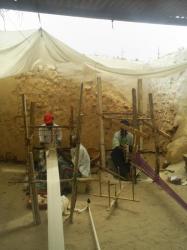 The Studio Workshop
We work here, sitting at the loom, on the bare ground, to weave the traditional Mandjak pagnes. We also produce the same Mandjak style weaving to create textiles for customer orders of "haute couture" , household accessories and personal accessories. We use natural and mercerized cotton, silk, rayon, gold and silver.
The Gallery
Our gallery specializes in traditional fabrics of Sénégal. We are located in the center of the original, historic city of Saint Louis, on the north section of the island. The gallery is open Monday thru Saturday, 9:00 to 13:30 and 15:00 to 20:00. To meet personally with the Director, Maï Diop, an initial telephone request is suggested.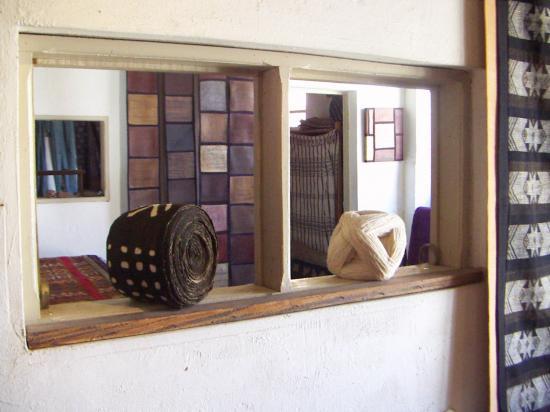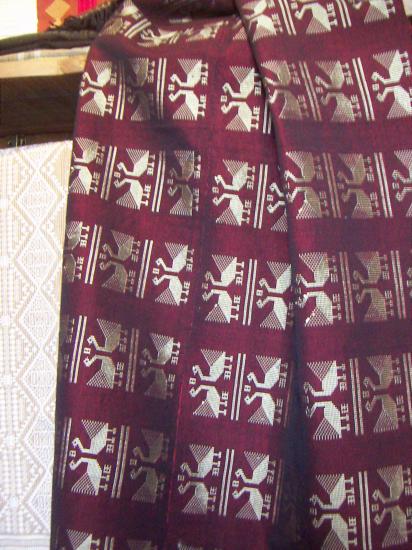 Tel fixe: (221) 33 961 68 60
Tel cel: (221) 77 440 73 37
BP 719 St Louis du Sénégal
396 rue Xalifa Ababacar SY
atelier_tesss∞yahoo.fr